New Car Brings Improved Commute for OPEIU Member
Member Stories
New Car Brings Improved Commute for OPEIU Member
Sharon Matthews, who is a member of Office and Professional Employees International Union (OPEIU) used the Union Plus Auto Buying service to find and purchase a union-made vehicle. Because she bought a union-made vehicle, she was eligible for additional savings through Union Plus.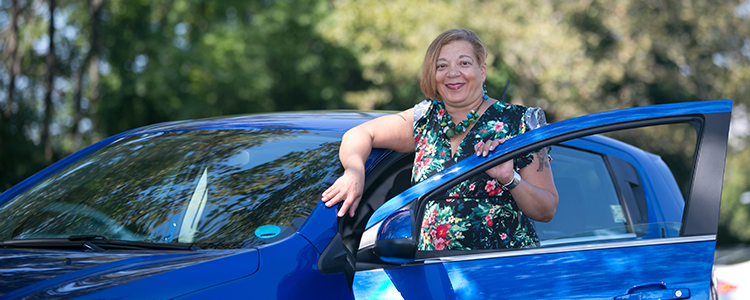 Boston has a reputation for having the nation's worst gridlock. Still, each day, Sharon Matthews, who is a member of Office and Professional Employees International Union (OPEIU) Local 6, makes the commute from her home in Cambridge, Massachusetts to her job at the Roxbury Division of the Boston Municipal Court.
One day, Matthews' trusty car's check engine light illuminated. She faced the all-too-common conundrum: to repair or to replace?
"It required major exhaust and emissions systems work," recounts Matthews. "That means it was going to be very expensive."
Then, she remembered getting a piece of mail that highlighted the Union Plus Auto Buying service. Matthews logged onto the Union Plus website and began seriously considering a new car purchase.
The Union Plus Auto Buying Service partners with price-comparison service TrueCar to let union members research pre-screened and certified dealers, see prices online, and get additional dealer discounts, in addition to offering rebates for union-made cars.
"I found a union-made car and a car dealership that was union friendly," Matthews recalls. "They gave me a discount on the spot. I got the cutest Chevrolet Sonic in blue. It's easy to park on the city streets and it gets great mileage. I love driving it to work."
The vehicle Matthews purchased made her eligible for the Union Plus union-made green car** rebate that totals $200. Union Plus automatically sends rebate checks to members who purchase qualifying union-made vehicles, with no additional paperwork from the member.
"The savings were great," says Matthews happily. "What I didn't expect was the rebate I received in the mail. I was in total shock.
"I can't say enough good things about Union Plus," she enthuses. "They save union members so much money and their benefits are great."
* Between 7/1/17 and 9/30/17, the average estimated savings off MSRP presented by TrueCar Certified Dealers to users of TrueCar powered websites, based on users who configured virtual vehicles and who TrueCar identified as purchasing a new vehicle of the same make and model listed on the certificate from a Certified Dealer as of 10/31/2016, was $3,383. Your actual savings may vary based on multiple factors including the vehicle you select, region, dealer, and applicable vehicle specific manufacturer incentives which are subject to change. The Manufacturer's Suggested Retail Price ("MSRP") is determined by the manufacturer, and may not reflect the price at which vehicles are generally sold in the dealer's trade area as not all vehicles are sold at MSRP. Each dealer sets its own pricing. Your actual purchase price is negotiated between you and the dealer. TrueCar does not sell or lease motor vehicles.
**EPA Green Car Make and Models Include:
- Chevrolet — Bolt, Volt, Cruze***, and Sonic***
- Chrysler — Pacifica Hybrid
- Ford — Focus
*** Check the VIN number of these vehicles. Some are assembled in Mexico and begin with the number 3. These are not eligible for rebates.