The $650 Switcher Credit from AT&T
Switch and Save with AT&T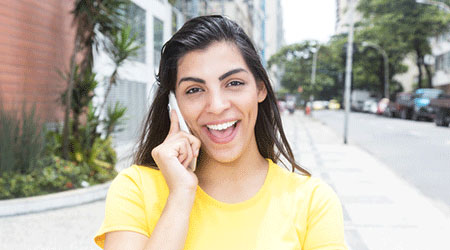 Switch now to AT&T, and get up to $650 in bill credits1 when you trade in a smartphone, and buy a new one on AT&T Next®.
AT&T has the largest network in the nation2 — and ranks highest in customer service among full-service wireless providers3 according to a recent survey–based study by JD Power.
Plus, with the AT&T wireless discounts through Union Plus, union members save 15% on the monthly service charge of qualified wireless plans (excludes unlimited plans)4 and 20% on select accessories5 from AT&T.
Shop online, or visit an AT&T store to take advantage of this limited-time offer.
Remember to reference discount code 3508840 to ensure you get the discount.
1SWITCH TO AT&T: Each line reqs an eligible port-in, trade-in, purchase, svc & final bill submission. Credits received may not equal all costs of switching. Elig. port-in: From eligible carrier (excludes Cricket & select others) on their term agmt or device plan (excludes 3rd party agmts). Must buy elig. smartphone in same transaction. Elig. Purchase/Svc: Smartphone on AT&T Next or AT&T Next Every Year installment agmt w/elig. svc (excludes prepaid, Lifeline, Residential Wireless and select discounted plans). Acct & svc must remain active & in good standing for 30 days. Tax due at sale. Down payment may be req'd. If svc is cancelled, installment agmt balance (up to $950) is due. Limit: Purch. limits apply. Trade-in: Select locations. Must be smartphone on line ported, be in good working condition w/min. $5 trade-in value & meet AT&T Trade-In program reqmts. Trade-in Credit: Instant credit or AT&T VISA Promotion Card issued by MetaBank™ or CenterState Bank of Florida NA, via license from Visa U.S.A. Inc. (may take 3 weeks to receive). Not redeemable for cash & non-transferable. Credit/Card valid for 5 months & for use only to purch. AT&T products & svc in AT&T owned retail stores, at att.com, or to pay wireless bill. Add'l cardholder terms & conditions apply & are provided w/Promotion Card. At dealers get credit (w/add'l terms) for use at dealer. Final Bill: Must go to att.com/helpyouswitch & upload or mail final bill w/in 60 days showing Early Termination Fee (ETF) or device plan balance (incl. lease purch. costs) on number ported. Final Credit: Total amount equals device balance/ETF (excludes taxes, fees, svc & other charges) up to $650 minus trade-in. Get up to $645 for device plan balance or up to $345 for ETF. W/in 4 wks after meet all elig. reqmts, will be mailed AT&T VISA Promotion Card issued by MetaBank™ or CenterState Bank of Florida NA, via license from Visa U.S.A. Inc. Not redeemable for cash & non-transferable. For use at US locations where Visa cards are accepted through date printed on card (min. 150 days). Add'l cardholder terms & conditions apply & are provided w/Promotion Card. See att.com/switch for details.
GEN. WIRELESS SVC: Subj. to Wireless Customer Agmt (att.com/wca). Svcs not for resale. Deposit may be reqd. Credit approval, activ., other fees, monthly, overage, other charges, usage, other restrs apply. Pricing & terms subject to change & may be modified or terminated at any time without notice. Coverage & svc not avail. everywhere. You get an off-net (roaming) usage allowance for each svc. If you exceed the allowance, your svc(s) may be restricted or terminated. Other restrs apply & may result in svc termination.
2Based on overall coverage in U.S. licensed/roaming areas. Map estimates outdoor coverage. Compatible device req'd. Coverage not avail. everywhere. AT&T's 4G LTE coverage is not equivalent to its overall network coverage.
3AT&T received the highest numerical score among 4 full-service wireless providers in the J.D. Power 2017 Wireless Customer Care Full Service Study – Volume 1, based on 8,135 total responses, measuring the perceptions and experiences of current customers who contacted their carrier's customer care department within the past three months, surveyed July-December 2016. Your experiences may vary. Visit jdpower.com.
415% ON THE MONTHLY SERVICE CHARGE of QUALIFIED WIRELESS PLANS: Available only to current members of qualified AFL-CIO member unions, other authorized individuals associated with eligible unions and other sponsoring organizations with a qualifying agreement. Must provide acceptable proof of union membership such as a membership card from your local union, a pay stub showing dues deduction or the Union Plus Member Discount Card and subscribe to service under an individual account for which the member is personally liable. Offer contingent upon in-store verification of union member status. Discount subject to agreement between Union Privilege and AT&T and may be interrupted, changed or discontinued without notice. Discount applies only to recurring monthly service charge of qualified voice and data plans, not overages. Not available with unlimited voice or unlimited data plans. For Family Talk, applies only to primary line. For all Mobile Share plans, applies only to monthly plan charge of plans with 1GB or more, not to additional monthly device access charges. Additional restrictions apply. May take up to 2 bill cycles after eligibility confirmed and will not apply to prior charges. Applied after application of any available credit. May not be combined with other service discounts. Visit unionplus.org/att or contact AT&T at 800-331-0500 for details.

520% ON SELECT ACCESSORIES: AT&T will apply the Accessory Discount to the prices of select Accessories available through AT&T, which may be modified by AT&T from time to time. The term "Accessory" or "Accessories" means supplementary parts for Equipment (e.g. batteries, cases, earbuds). The Accessory Discount will not apply to Accessories purchased for use with datacentric Equipment such as modems, replacement SIM cards and car kits or to Apple-branded Accessories, and the Accessory Discount may not be combined with any other promotional pricing or offer.