Rolling Down the Freeway LA Leader Uses Union Plus to Get New Wheels
Member Stories
Rolling Down the Freeway LA Leader Uses Union Plus to Get New Wheels
SAG-AFTRA administrator Grace Danziger wanted to purchase a plug-in hybrid for the best price possible. She turned to the Union Plus Auto Buying Service and was able to get a great deal on her new hybrid.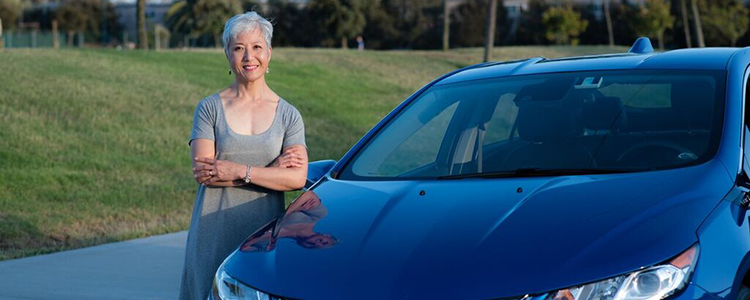 Working in the entertainment industry in Los Angeles requires a lot of support and a working car. That's why Screen Actors Guild-American Federation of Television and Radio Artists (SAG-AFTRA) administrator Grace Danziger was so excited to get help from Union Plus with her latest car purchase when the lease on her old car was ending.
"I have been receiving Union Plus benefit emails for quite some time," Danziger recalls. "The auto buying program caught my eye."
"Choosing a plug-in hybrid was important for environmental and economic concerns," Danziger notes, adding that she and her husband Marc wanted to find the best deal possible.
That is why they decided to take advantage of the Union Plus partnership with the price-comparison service TrueCar. The Union Plus Auto Buying Service lets members research pre-screened and certified dealers, see prices online, and get additional dealer discounts, in addition to offering rebates for union-made cars.
In addition to enjoying an easy search and application process, Danziger says that she felt personal support from the Union Plus partnership as well.
"I feel like we were taken extra care of," she says, noting that the dealer they bought from was affiliated with Union Plus. "They had great customer service and they made buying our car a worry-free experience."
To top it all off, the Union Plus service added a $200 rebate to the deal since the Danzigers bought a new union-made car and a hybrid at that.
Danziger says that the entire process was "so easy that it felt like we received a gift!"
"Union Plus offers so many ways workers can save money on things they are already doing like buying cars and taking vacations," Danziger concludes. "All union members and staffers should take advantage of Union Plus programs!"
To learn more about the Union Plus Auto Buying Service, visit unionplus.org/autobuying.

* Between 7/1/17 and 9/30/17, the average estimated savings off MSRP presented by TrueCar Certified Dealers to users of TrueCar powered websites, based on users who configured virtual vehicles and who TrueCar identified as purchasing a new vehicle of the same make and model listed on the certificate from a Certified Dealer as of 10/31/2016, was $3,383. Your actual savings may vary based on multiple factors including the vehicle you select, region, dealer, and applicable vehicle specific manufacturer incentives which are subject to change. The Manufacturer's Suggested Retail Price ("MSRP") is determined by the manufacturer, and may not reflect the price at which vehicles are generally sold in the dealer's trade area as not all vehicles are sold at MSRP. Each dealer sets its own pricing. Your actual purchase price is negotiated between you and the dealer. TrueCar does not sell or lease motor vehicles.
**EPA Green Car Make and Models Include:
- Chevrolet — Bolt, Volt, Cruze***, and Sonic***
- Chrysler — Pacifica Hybrid
- Ford — Focus
***Models are made in both the US and Mexico. Vehicles with VIN beginning with the number 3 are ineligible.