AFSCME Member Endorses Union Plus
Member Stories
AFSCME Member Endorses Union Plus
The fire department in one Pennsylvania city averages up to eight severe structure fires each day. If a firefighter gets injured on the job, AFSCME District Council 33 member Angela Avinger processes their paperwork.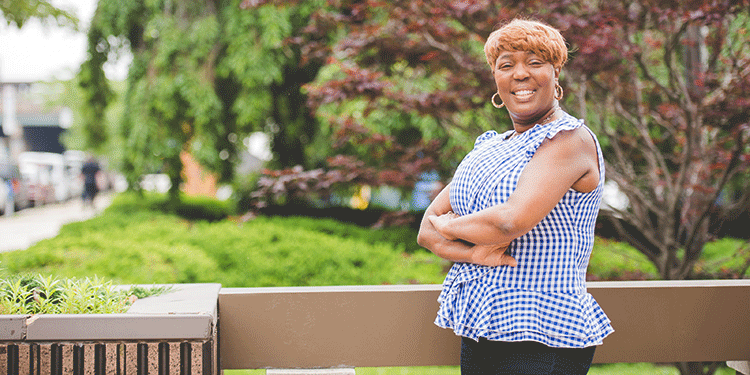 Avinger is a Clerk 3 Typist for the Fire Department. She sees her office and the people she works with as family. That's because in her own crisis of loss, they rallied around her with uncommon love and presence.

"I've had several deaths in my family since I joined the Department 10 years ago – my mother, brother and oldest sister," she said. "People I work with came to the funeral services, prayed with me, and even the city's Fire Commissioner made sure I was all right. I didn't feel like an employee. They didn't have to do any of that. They just made me feel special."

Avinger seeks to deliver that same care and sensitivity among firefighters and paramedics she serves. She encourages and prays for them as they collaborate on finalizing paperwork prior to even their entering the hospital, and sometimes, she visits them as they recover.

Devout in her faith and deeply involved in her faith community, she believes her work is an extension of how she believes others should be treated. This desire has made her a strong union member who works behind the scenes to advocate for her district's people.

Three years ago, she also sought to advocate for herself by focusing on building up her credit. Having seen the AFSCME Advantage Credit Card Program1 information online and in the mail, she saw how easy it was to apply and went for it.

Current and retired union members, and often their family members, are eligible to apply for the Union Plus Credit Card Program. Each card has $0 Fraud Liability if your card is lost or stolen2, which means card holders can shop with confidence and be assured they are protected if the card is lost or stolen. Additionally, eligible card holders may apply for and gain access to hardship assistance grants in the event they are in need of specific help through a range of life events3.

"I use this card for everything – online purchases, grocery shopping and even get a couple dollars out every now and then with a cash advance," she said.

Avinger believes the card can help build credit with responsible use.

"My AFSCME Advantage Credit Card works for me. I'd recommend Union Plus to any union member," she said. "In fact, my 23-year-old son is about to start his first job, and I've told him I think he should consider applying for it."

The Union Plus Credit Card is made available in partnership with Capital One. It is backed by the highly rated Capital One Mobile app, which is designed for a simple mobile experience, making it even easier to manage your account.

To learn more and apply visit theunioncard.com.
1The Union Plus Credit Card is issued by Capital One, N.A. pursuant to a license by Mastercard International Incorporated.

2$0 Fraud Liability claims are subject to investigation and verification.

3Certain restrictions, limitations and qualifications apply to these grants. Additional information and eligibility criteria can be obtained at unionplus.org/assistance.